The clinical value of iovera has been established in two high unmet need settings of knee osteoarthritis and total knee arthroplasty, respectively.
iovera° knee osteoarthritis study
Study overview1
Randomised, multicentre, prospective, sham-controlled, double-blind study
17 sites across the United States
N=180 (randomised 2:1)
Treatment Group = 121 subjects treated with iovera°
Control Group = 59 subjects treated with a sham tip
Methods1
Treatment of the infrapatellar branch of the saphenous nerve (ISN) only
Patients were followed through 120 days post-treatment
Results1
The iovera° group demonstrated a statistically significant greater change from baseline in the WOMAC Total score than the sham group at Days 30 (P=0.0010) and 90 (P=0.0108). The most common side effects were bruising, numbness, redness, tenderness upon palpation and swelling.
---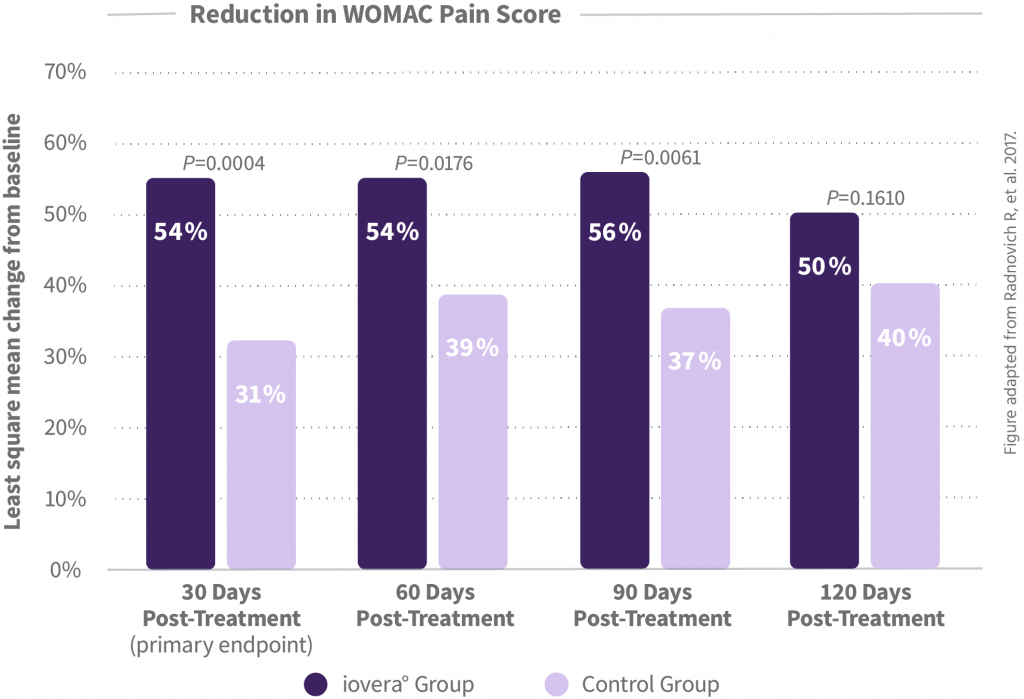 ---
Retrospective total knee arthroplasty (TKA) study
Study overview2
Single site (Louisiana State University Health Sciences, School of Medicine); retrospective chart review; N=100
Treatment Group = First 50 patients treated after iovera° introduced
Control Group = Last 50 patients treated before iovera° introduced
Methods2
iovera° treatment of the infrapatellar branch of the saphenous nerve (ISN) and anterior femoral cutaneous nerve (AFCN) 5 days prior to TKA
Results for the iovera° group2
Required 45% less opioids than the control group during the 12 weeks after surgery based on prescription requests P<0.0001
Compared to the control group, the iovera° treatment group demonstrated significantly greater improvement in knee injury and osteoarthritis outcome score (KOOS) symptoms scores at 6 weeks and 12 weeks post surgery
The iovera° group demonstrated within-group significant reductions in PROMIS® pain intensity and pain interference at 2- and 6-week follow-up, respectively (P<0.0001)
Significantly fewer iovera° patients (6%) had a length of stay of ≥2 days compared with the control group (67%), P<0.0001
The most common side effect was local bruising at the site of treatment
---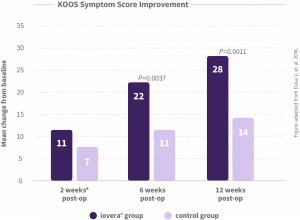 ---
*P value not reported.WOMAC = Western Ontario & McMaster Universities Osteoarthritis Index
KOOS=Knee Injury and Osteoarthritis Outcome Score; PROMIS=Patient-Reported Outcomes Measurement Information System.
References
1. Radnovich R, et al. Osteoarthritis Cartilage. 2017;25(8):1247-1256;
2. Dasa V, et al. Knee. 2016;23(3):523-528;