The clinical value of iovera has been established in two high unmet need settings of knee osteoarthritis and total knee arthroplasty, respectively.
Prospective knee osteoarthritis (OA) study
Study overview1
Randomised, multicentre, prospective, sham-controlled, double-blind study
17 sites across the United States
N=180 (randomised 2:1)
Treatment Group = 121 subjects treated with iovera°
Control Group = 59 subjects treated with a sham tip
Methods1
Treatment of the infrapatellar branch of the saphenous nerve (ISN) only
Patients were followed through 120 days post-treatment
Results1
The primary endpoint was the least squares (LS) mean change from baseline (average of the mean changes from baseline) to Day 30 in WOMAC pain subscale score. The iovera° group demonstrated a statistically significant greater change from baseline in the WOMAC Total score than the sham group at Days 30 (P=0.0010) and 90 (P=0.0108)
The most common side effects were bruising, numbness, redness, tenderness upon palpation and swelling.
---
---
Retrospective total knee arthroplasty (TKA) study
Study overview2
Single site (Louisiana State University Health Sciences, School of Medicine); retrospective chart review; N=100
Treatment Group = First 50 patients treated after iovera° introduced
Control Group = Last 50 patients treated before iovera° introduced
Methods2
The treatment group (cryoneurolysis plus multimodal pain management) received cryoneurolysis of the AFCN and ISN five days prior to surgery in addition to the standard preoperative multimodal pain management program.
Results for the iovera° group2
Required 45% less opioids than the control group during the 12 weeks after surgery based on prescription requests P<0.0001
Compared to the control group, the iovera° treatment group demonstrated significantly greater improvement in knee injury and osteoarthritis outcome score (KOOS) symptoms scores at 6 weeks and 12 weeks post surgery
The iovera° group demonstrated within-group significant reductions in PROMIS® pain intensity and pain interference at 2- and 6-week follow-up, respectively (P<0.0001)
Significantly fewer iovera° patients (6%) had a length of stay of ≥2 days compared with the control group (67%), P<0.0001
The most common side effect was local bruising at the site of treatment
---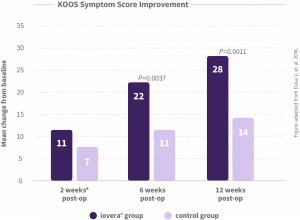 ---
Prospective total knee arthroplasty (TKA) study
Study overview3
A prospective, randomized, unblinded, controlled trial; N=124
Treatment Group = ITT: 62 subjects (PP: 48) treated with iovera°
Control Group = ITT: 62 subjects (PP: 48) treated with current preoperative standard of care (SOC)
Methods3
iovera° treatment was focused on freezing the superficial genicular nerves, more specifically referred to as the ISN and the AFCN
The SOC group could receive local infiltration analgesia (periarticular and posterior capsule; 1% lidocaine along the two lines of treatment, with 5cc administered along each treatment line) during surgery.
Results3
The primary end point* was not met in the ITT analysis (4.8 control group vs 6.1 mg SOC; P = 0.0841) but was met in the PP analysis (4.2 vs 5.9 mg; P = 0.0186) after excluding patients with medication deviations or missing follow-up data.
Compared with the SOC group, the iovera° group had improved functional scores and numerical improvements in pain scores across all follow-up assessments, with significant improvements observed in current pain from baseline to the 72-hour and 2-week follow-up assessments and pain in the past week from baseline to the 12-week followup assessment.
Most AEs in both groups were related to the surgery and were of mild (61%) or moderate (27%) severity. There were no serious AEs in the iovera° group attributed to the treatment. There were no device-related or cryoneurolysis procedure-related AEs and no patient who received cryoneurolysis withdrew from the study because of an AE.
The most frequently reported AEs for the study were deep vein thrombosis and wound issues associated with the surgical incision.
Findings from the PP analysis suggest that preoperative cryoneurolysis in patients with knee osteoarthritis can reduce opioid consumption and improve functional outcomes after TKA.
---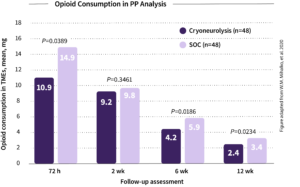 ---
*P value not reported.
WOMAC = Western Ontario & McMaster Universities Osteoarthritis Index
KOOS = Knee Injury and Osteoarthritis Outcome Score;
PROMIS = Patient-Reported Outcomes Measurement Information System.
References
1. Radnovich R, et al. Osteoarthritis Cartilage. 2017;25(8):1247-1256;
2. Dasa V, et al. Knee. 2016;23(3):523-528;
3. W.M. Mihalko et al. Cryoneurolysis before Total knee arthroplasty in patients with severe osteoarthritis for reduction of postoperative pain and opioid use in a single-center randomized controlled trial the journal of arthroplasty 36 (2021) 1590–1598